Paola Di Lanzo, is the (toned) beauty and brains behind one of the best workouts in London, Paola's BodyBarre. Paola has trained celebrities, models, and anyone that wants to have a toned physique.  My review of Paola's bodybarre is soon to come, but let me just say this, after experiencing only one class I was hooked and PBB is now a staple in my exercise routine. Paola is someone with amazing positive energy and an amazing body… I was desperate to see how she does it (and with three kids!)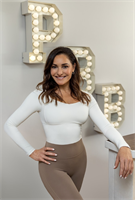 Q1) How did you get into the health & fitness world?
I have always been passionate about fitness and health. I was an extremely sporty kid and that followed throughout my high school years.
You name it….I played it! I also loved ballet as a child. I started at 9 (which was a little late) and quit  at 14 as it proved too much to keep up with all  my sport and school work. At 17 I decided I wanted to be a High School Teacher so majored in Health and Physical Education. All the way through University I worked in gyms (Gym Instructor/Aerobics teacher). Once I graduated I realised teaching was not for me! I taught on and off for two years. I had several jobs from events organising to working in fashion as an agent for an Australian brand.
However, I always went back to my fitness. I have been a personal trainer since I was 21 (22 years). After my first child I realised my body wanted something different to the heavy weights, pounding the pavements and jogging every day! I discovered Pilates 12 years ago and was hooked. Over the years I have devised my own routine drawing on my fitness back ground and Pilates. I "upped the anti" on the original Pilates repertoire, which gave my client's a routine that would keep their heart rate up whilst adhering to the basic principles of Pilates.
Q2) You moved from Australia to London 16 years ago. Do you think our attitude to health and exercise in the UK is very different from Australia?
When I first arrived I felt the Health and Fitness Industry was very much behind what it was in Australia . Now I think we are about the same. The only difference I would say is that in Australia we tend to more outdoors activities, merely because we have the weather that is conducive for this! It is not unusual to see hundreds of people running and swimming on the beach at 6am. The Australians are extremely health conscious and into their health. But I think we are in the UK. There is a huge fitness and health movement which is evident worldwide. Generally we are so much more aware!
Q3) Can you tell us a bit about Paola's BodyBarre, and what people can expect from your classes?
Paola's Bodybarre the Method is a mixture of Dynamic Pilates, Ballet, Dance and fitness. You can expect an intense body work out working into every muscle! We keep you moving so your heart rate stays up giving you the cardiovascular workout we all need! The class is fun and vibrant with loads of energy. Expect muscle soreness after your first attempt!
Q4) Women now aspire to be fit and healthy as opposed to being skinny. How do your classes help to create this toned physique?
We are all about "Fit Not Thin"  We try to promote healthy eating and training techniques that help build muscle and whilst keeping you fit. We do not focus on the weight loss factor, we focus on body composition. Eating correctly to build healthy bodies! I see a lot of women who have misconceptions about eating. Such as eating no carbs! This is my pet hate! We have to eat carbohydrates, just healthy ones. We are essentially a machine and in order for it to run it needs the right balance of fuels put into the body.
Q5) How do your classes differ from other exercise studios?
At PBB we have a variety of classes: Yoga, Pilates, TRX, Body FIT, Dynamic Pilates, Pre/Post Natal Pilates, Fit-Camp Ballerina, Barre-Pilates-Core and of course the PBB method. I would say we are different in that we encourage a mixture of training. We also love the Hybrid training concept. Mixing it up. Not getting your body too used to one type of training. We pride ourselves on our non-competitive vibe. I live right next door and treat the studio as an extension of my home so it is rather homely and welcoming with a non threatening environment. We don't care for what other studios are doing we like to concentrate on what makes our clients happy, and us of course. I always wanted a space that made people feel comfortable whilst getting fit.
Q6) You have an exercise studio in Fulham are there any plans to open any others?
Since opening I have several investors approaching me! Right now I want to concentrate on Fulham. Maybe ask me one year down the track. My youngest child is only 22 months and three children and a new business is some what of a challenge! Never say never I say.
Q7) You have an open day this Saturday (21st) can you tell me more about it?
This Saturday we are offering free taster classes from 10.30am – 2.30pm. We want people to pop their heads in stay for a few 15 minute taster sessions. Have some yummy healthy snacks and fresh juices on us and enjoy themselves! We are also holding a raffle for the participants. The prize is a free block of 10 sessions at PBB. We also have a juicing work shop held by Jo Arthur at 3pm. (£25pp)
Q8) Do you have a signature exercise move?
Oh yes! I would have to say 'Kick-Boxing Ballerina's' I have been using this term all my years of training Pilates. It's not Pilates, however it is a mixture of a kick-boxing move with an element of ballet.
Q9) What is your normal eating and exercise routine?
My normal eating routine is a Rebel Matcha Tea or a spirulina green juice from Fresh Poppy's Place  at 7am. After my 7am class I will have one of our healthy treats by Retreat Cafe, or Dynabites by Miss Nutritionist or yummy protein balls by Anita (Our Ballet teacher who is an AMAZING cook and heath food/raw food "chef". By 10am I need a protein fix so I usually have eggs and some from of veg. I whizz by The Goodlife Eatery when I'm teaching in Chelsea or to The Pie Man (not for pies….for his healthy snacks and salads). At home we generally have fresh home cooked meals. I make sure myself Tom and the children eat a balanced healthy diet. All our veg is delivered weakly from Riverford farms!
As far as exercise is concerned now days I try to do one yoga class a week at the studio with Jo Arthur whom does an amazing Yin class or Jivamukti with Melody Hekmat whom is also a brilliant teacher. I need the Yoga with all the Barre classes I teach. As I also teach my privates and teach PBB at Grace Belgravia and KX Kensington it is rare I will go and do another fitness class. I think the 30 odd classes a week and my kids keep me fit enough. However I am dying to try Psycle, Barry's Bootcamp and SBC. I have heard amazing things!
Q10) Where do you like to eat out in London?
Locally my favourite is Poppy's Place on Munster Road. I have my daily Soya late there and love to sit in for the smashed avocado and poached eggs or their lentil salad! It feels like you are sitting in your friends kitchen. I also love the new Jaks on Lots Road and  Olive on Munster Road for the best takeaway HEALTHY Italian (I grew up in my father's Italian Restaurants in Australia so Italian food is a must!) E&O is a favourite if I feel like a cocktail and meal out with Tom.
I personally love to cook so my favourite meals are at home with my family!
Q11) what are your top tips for achieving a healthy body?
My top tips are balance. The right balance of exercise, type of foods and portions. If you over do it one day, just make up for it the next day. We can get into terrible cycles of guilt over eating. In my opinion the more you worry about it the less likely you will stick to a healthy eating plan. It's a simple formula at the end of the day, energy input and output. Exercising and eating in moderation is my motto! I don't believe in fad diets nor do I believe in cutting out foods that you enjoy that may be enjoyable for you to eat. MODERATION-PORTION CONTROL-BALANCE!